Turkey is the country where is the cradle of civilazitation since more than 10000 years. We can give some name of civilazitation and empires name as Hitit, Phrygia, Persian, Greek, Roman Empire, Selcuklu Empire, Ottoman Empire and mores… If you want to disover history, nature, culture in one place in the World, You are in correct adress; Turkey.
On our tours, you will see hightlight of turkey such as Istanbul, Izmir, Greek Islands and anywhere you want to visit in Turkey. You just dream about Turkey and Top Turkey Tours team will make it for you. Please check our tours and If you have question we are happy to answer your questions.
Departure/Return Location

Istanbul / Istanbul
Departure Date

All Year Can be Arranged
Tour Included

Arrival and Departure Transfers in Istanbul, Cappadocia, Fethiye
All tours and transfers are regular based
2 Nights Accomodation in Istanbul BB
3 Nights Accomodation in Cappadocia BB
1 Nights Accomodation in Fethiye BB
3 Nights Accomodation on Boat
Blue Cruise Turkey Tour
1 Full Day Old City Tour
1 Half Day Bosphorus Cruise Tour
2 Full Day Cappadocia Tour
5 Breakfast at Hotel
3 Local Lunch at Tour in Turkey
3 Breakfast on Cruise
3 Local Lunch on Cruise
3 Local Dinner on Cruise
All Entrance Free on Itinerary
On Tour Licenced English Speaking Guide
Meals are included for the duration of your cruise. This includes breakfast, lunch, dinner, afternoon tea and snacks. Drinks are not provided in your cabin charter package.
Port and marina fees, taxes and fuel are all included in your cabin charter package price.

Tour Not Included

| | |
| --- | --- |
| All Personel Expenses in Istanbul | Minibars at Hotels |
| Tips to Staff | Any Meals Except on Itinerary |
Note: Our price is given according to 4* and boutique hotel catagory. If you are more than 4 people please ask our special offer for our Private based price option. If booking is before less than 4 weeks from arrival day, price can be changed due to domestic tickets. Please ask to tour consultant.
Children Prices:
0-3 Years : %15 Of Adult Price
3-5 Years: %35 Of Adult Price
6-11 Years: %50 Of Adult Price
Day 1: Arrival in Turkey
Welcome to Turkey!
Upon your arrival to Istanbul airport , our represantative will meet you at airport with sign which your name is written on and transfer to your hotel. Overnight in Istanbul.

Day 2: Istanbul Byzantian and Ottoman Relics Tour
You will be picked up from your hotel for full day tour.
Hightlights of tour: Hagia Sophia Museum, Topkapi Palace, Blue Mosque, Hipoddrome, Grand Bazaar.
You will visit Hagia Sophia museum which was largest church of World during roman empire in 6th century.Than second hight of tour is Topkapi Palace where was center of ottoman empire since 15th century.
After Topkapi Palace, guide will take you to Blue Mosque, which is the unique mosque in Turkey with six minarets.Near blue mosque,you will visit ancient roman Hipoddrome where chariot races were arranged since 3th century in Roman Empire. Today last stop is most famous and largest covered bazaar in Turkey with 4000 shops inside known as Grand Bazaar.
After tour, you will be transfered back to hotel. Overnight in Istanbul. (Breakfast and Lunch)

Day 3: Half Day Bosphorus Cruise Tour & Istanbul to Cappadocia
You will be pick up from your hotel for an other memorable Istanbul tour.
Hight lights of Tour: Bosphorus cruise on boat
Today in the morning time, guide will pick up you from hotel and you will see best side of city known as bosphorus where is between Europe and Asia. You will see Dolmabahce Palace,Ciragan Palace,Ortakoy,Boshorus Bridge and houses and kiosks on asia side from boat, after tour you will be transfered to airport and fly to Cappadocia. Upon your arrival Kayseri Airport transfer to Hotel. Overnight in Cappadocia. (Breakfast)
Day 4: Goreme Museum& Fairy Chimney Tours
Today you can join OPTINAL BALLOON tour please ask you agent.
After your breakfast you will depart from your hotel to visit Devrent Valley to see the unigue fairy-chimneys. Drive to Love valley to see the most interesting mushroom-shaped pinnacles.Drive to city of Avanos .In the afternoon visit another beautiful open air museum at Göreme where the remains of rock-cut churches and Christian settlements date back hundreds of years.Lastly,before returning to your hotel,visit the natural castles at Uçhisar.After tour you will back to hotel.Overnight in Cappadocia . (Breakfast and Local Lunch)
Day 5 : Rose Valley & Ozkonak Underground Cıty Tours
After your breakfast you will depart from your hotel to visit Red valley,and explore the famous rock- cut churches and hike 5 km through the Güllüdere valley. Then visit Çavuşin village.This village is famous for the houses and churches of the christian clegymen.After lunch Drive to the pigeon valley . In the afternoon visit Ozkonak underground city. Where early christians lived in fear and faith. After tour you will back to hotel.Overnight in Cappadocia . (Breakfast and Local Lunch)
Day 6: Cappadocia to Fethiye
After breakfast you will be picked up from your hotel and transfer to airport for fly to Fethiye. Upon your arrival you will be transferred to hotel and Overnight in Fethiye. (Breakfast)
Day 7: Fethiye to St Nicholas Island
Today guide will pick up you for Today you will begin your cruise with check-in at the office at the Fethiye harbour at 09:00 am, here you will be given information before boarding the gulet where you will be given a brief about your cruise. We will depart Fethiye harbour and cruise to Butterfly Valley for swimming, lunch and an optional hike up to the waterfall. Butterfly Valley is known to be the home to over 136 different types of butterflies and moths, however in the summer months difficult to spot. Afterwards, we will visit Oludeniz beach, Europe's most photographed beach and one of the best sites in the world to paraglide
Optional Activity: Paragliding
Blue Lagoon If you fancy gliding off the cliff tops and taking in the spectacular views of the Blue Lagoon and Oludeniz, We recommend pre-booking this activity either online for special rates or with our friendly office crew. However, if you decide whilst here that this is the activity for you, please let your captain know. Tonight we will anchor at St. Nicholas Island, we arrive in time to walk up through the island's ruins and witness the amazing sunset. (Lunch and Dinner)
Day 8: St Nicholas Island to Kas
Today we cruise to Kalkan (Aquarium Bay) for breakfast and swimming. This is a fantastic spot to put on the goggles, do some snorkelling and make the most of the crystal clear waters. We will then cruise onto Kas, a small fishing village with a charming little harbour, to enjoy lunch on the boat.
Optional Activity: Diving
The waters of Kas are some of the clearest in the Mediterranean and a perfect place to dive. We recommend pre-booking this optional activity online before your cruise to receive special discounted rates and also to guarantee your dive. You will then have time to explore the local shops, including many handmade jewellery and clothes stores. We will spend the night in one of the secluded bays between Kas and Kekova. (Breakfast, Lunch and Dinner)
Day 9: Kas to Gokkaya Bay
Today after breakfast we will cruise to the area of Kekova. First, on the list, we will discover the Sunken City, an ancient town dating back 2000 years to the Lycian period and destroyed by an earthquake. We will cruise over this protected World Heritage site, however, no swimming, diving or snorkelling is allowed in this area. We will then cross to Simena Castle where you can walk to the top and witness a magical view over the bay, taking in the underwater Lycian Tombs and the Sunken City. Overnight in Gokkaya Bay (Breakfast, Lunch and Dinner)
Day 10: Gokkaya Bay to Demre / Olympos & Departure & Istanbul Departure
On your last day, you can enjoy a lazy start, resting off any sore heads from partying until the wee hours. After breakfast, you will head to Ucagiz Village Harbour. Lunch is not included on the last day. After tour you will be transferred to airport for fly to Istanbul. Upon your arrival you will catch your international flight. Thank you for choosing us. Go with a smile… (Breakfast)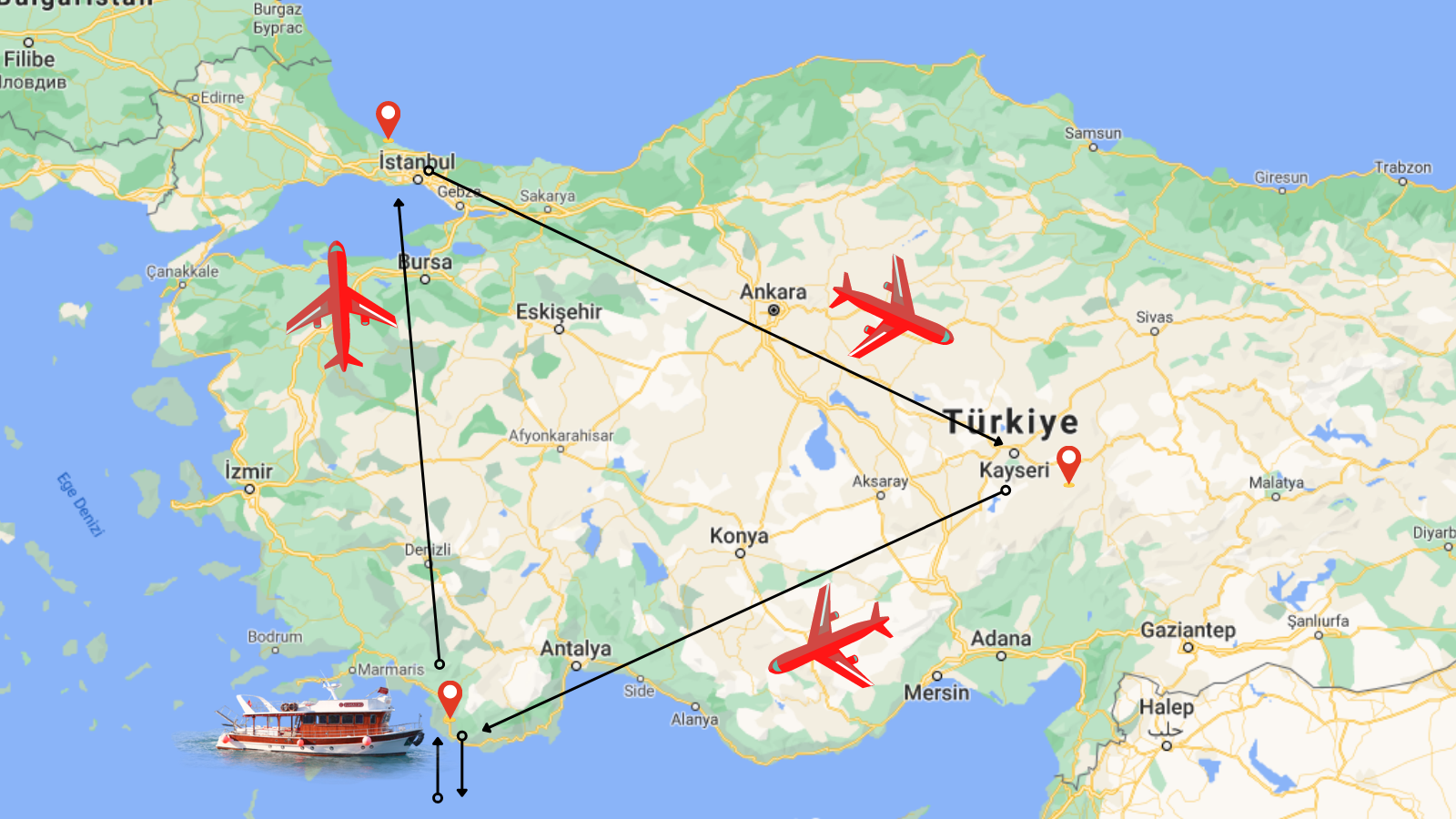 ISTANBUL HOTELS;
❇ 4 Stars ➲ Green Park Taksim Hotel (City Center, Taksim Square)
❇ 4 Stars ➲ Avantgarde Taksim Square (City Center, Taksim Square)
CAPPADOCIA HOTELS;
❇ ➲ Heaven Cave House (City Center)
❇ ➲ Abraş Cave Hotel (City Center)
FETHIYE HOTELS;
❇ ➲ MARİNA BOUTIQUE HOTEL (City Center & Near to Beach)
Accommodation can be exchanged with a similar category hotel according to the occupancy rate of the hotels