Turkey is the country where is the cradle of civilazitation since more than 10000 years. We can give some name of civilazitation and empires name as Hitit, Phrygia, Persian, Greek, Roman Empire, Selcuklu Empire, Ottoman Empire and mores…
If you want to disover history, nature, culture in one place in the World, You are in correct adress; Turkey. On our tours, you will see hightlight of turkey such as Istanbul, Safranbolu, Ankara, Cappadocia, Konya, Antalya, Fethiye, Bodrum, Pamukkale , Kusadasi, Canakkale, Bursa anywhere you want to visit in Turkey. You just dream about Turkey and Top Turkey Tours team will make it for you. Please check our tours and If you have question we are happy to answer your questions.
Departure/Return Location

Istanbul / Istanbul
Departure Date

All Year Can be Arranged
Tour Included

Arrival and Departure Transfers in Istanbul, Safranbolu, Ankara, Cappadocia, Konya, Antalya, Fethiye, Bodrum, Pamukkale , Kusadasi, Canakkale, Bursa
All tours and transfers are private based
4 Nights Accomodation in Istanbul BB
2 Nights Accomodation in Safranbolu HB
3 Nights Accomodation in Cappadocia HB
2 Nights Accomodation in Antalya HB
1 Night Accomodation in Pamukkale HB
2 Nights Accomodation in Fethiye HB
2 Nights Accomodation in Bodrum HB
2 Nights Accomodation in Kusadasi HB
1 Night Accomodation in Canakkale HB
1 Full Day Old City Tour
1 Day Safranbolu Tour
1 Day Ankara Tour
2 Full Day Cappadocia Tour
1 Day Konya Tour
1 Full Day Antalya Tour
1 Full Day Pamukkale Tour
1 Full Day Fethiye Tour
1 Dalyan & Bodrum Tour
1 Full Day Ephesus Tour
1 Full Day Troy & Pergamom Tour
1 Full Day Bursa Tour
1 Day Bosphorus Cruise & Dolmabahce palace & Spice Market Tour
All Entrance Fee on Itinerary
On Tour Licenced English Speaking Guide
1 lunch on boat on day DAY 13 (Drinks are Extra)
15 Hotel Dinners
19Breakfasts

Tour Not Included

| | |
| --- | --- |
| All Personel Expenses in Istanbul | Minibars at Hotels |
| Balloon Tour in Cappadocia & Paragliding in Fethiye & Turkish Night Show in Cappadocia | Any Meals Except on Itinerary |
Note: Our price is given according to 4* and boutique hotel catagory. If you are more than 4 people please ask our special offer for our Private based price option. If booking is before less than 4 weeks from arrival day, price can be changed due to domestic tickets. Please ask to tour consultant.
Children Prices:
0-3 Years : %15 Of Adult Price
3-5 Years: %35 Of Adult Price
6-11 Years: %50 Of Adult Price
Day 1: Arrival in Turkey
Welcome to Turkey!
Upon your arrival, our represantative will meet you at airport with sign which your name is written on and transfer to your hotel. Overnight in istanbul.
Day 2: Old City Tour
You will be picked up from your hotel for full day tour.
Hightlights of tour: Hagia Sophia Museum, Topkapi Palace, Blue Mosque, Hipoddrome, Grand Bazaar.
You will visit Hagia Sophia museum which was largest church of World during roman empire in 6th century.Than second hight of tour is Topkapi palace where was center of ottoman empire since 15th century . After Topkapi Palace, guide will take you to Blue Mosque, which is the unique mosque in Turkey with six minarets.
Near blue mosque,you will visit ancient roman hipoddrome where chariot races were arranged since 3th century in Roman Empire. Today last stop is most famous and largest covered bazaar in Turkey with 4000 shops inside known as Grand Bazaar.
After tour, you will be transfered back to hotel. Overnight in Istanbul. (Breakfast and Lunch)
Day 3: Istanbul to Safranbolu & Discover Safranbolu City
We will drive through the narrow streets and stop at some important places (old wooden houses protect by UNESCO, bazaars, hamams, squares, mosque, etc) to take photos and get some information about them. We will see Cinci Turkish bath, Clock Tower, Arasta Bazaar, Bakizadeler Mansion,, Cinci Hodja House, the old government building, blacksmiths bazaar during the tour. You will see also Hidirlik Hill. It was also used as a prayer place once upon a time. Its strategic location overlooking the city is a major factor in its usage. Safranbolu is on of the oldest ottoman town since more than 400 years old. Overnight in Safranbolu (Breakfast and Hotel Dinner)
Day 4: Safranbolu to Cappadocia via Ankara
Today you will be picked up from your hotel and drive to Cappadocia. On the way we will visit Anitkabir and Tuz Gölü (SaltLake). The Tuz Gölü, also called Tatta in antiquity, is a closed-end lake surrounded by plateaus. Although it is the second largest lake in Turkey, it doesn't contains a large amount of water, due to its shallowness. Tuz Gölü salt is one of the richest in the world. It gives 300 thousand tons of salt per year, 60% of the total production in Turkey.Today last tour Mausoleum of Ataturk / Anitkabir – Republic's founder and leader, Mustafa Kemal Ataturk's Mausoleum. After tour you will drive to Cappadocia, upon arrival transfer to hotel.Overnight in Cappadocia . (Breakfast and Hotel Dinner)
Day 5: Cappadocia Tour
Today you can join OPTINAL BALLOON tour please ask you agent.
After breakfast, you will be picked up from your hotel by your guide, you tour will start. Please dont forget you camera to click of beauties of Cappadocia. You will visit Göreme Open air Museum where was one of early christian center during 3th century, you will visit,apple church,snake church and mores.Than you will go to pasabag valley known as mushroom valley because of shape of rocks. You will take you nice photos and next stop is camel rock and cavusin village. After tour drive back to hotel.Overnight in Cappadocia. (Breakfast and Hotel Dinner) 1
Day 6: Cappadocia Tour
After breakfast,second cappadocia tour will start. You will visit Ozkonak Underground City where the people had to live during to emergency case in 3th century. Ozkonak underground city is the biggest one in Cappadocia. Then you will visit pigeon valley and you can see house of pigeon and still pigeons can be seen there. Then you will take photo of uchisar castle and panoroma of göreme town. After tour drive back to hotel.Overnight in Cappadocia. . (Breakfast and Hotel Dinner)
Day 7: Cappadocia to Antalya via Konya
After breakfast, you will drive to Antalya via Konya to visit Mevlana Museum famous during 12th century during selcuklu empire in konya.You will visit his old medrese and tomb and in musuem you will see Handwriting Kur'an comes from 15th centurry and drive to Antalya on the way visit Sultanhan kervansarai and drive to hotel.Overnight in Antalya.(Breakfast and Hotel Dinner)
Day 8: Antalya Old City & Duden Waterfall
After breakfast, today you will visit Antalya old City ( Kaleiçi ) Marina, Clock Tower, Hadrian's Gate, Broken Minaret, Hidirlik Tower: Kaleici is a small historic part of Antalyas modern city, also known as the Old City of Antalya. In history it was once the sprawling modern Roman town, then the Byzantine Empire, then Seljuks, and finally the Ottoman Turkish town. The Hadrian's Gate (or Hadrianus Gate or The Three Gates is a triumphal arch which was built in the name of the Roman emperor Hadrian. Antalya's broken wonder is the Broken Minaret of the Korkut Mosque, which itself was built originally as a Roman temple in the 2nd century AD, and thus did not have a minaret at all. Hıdırlık Tower is a landmark tower of tawny stone in Antalya, Turkey, where Kaleiçi meets Karaalioglu Park. It is believed to be built in Hellenistic era on a square plan and later turned into circular tower in 2nd century AD and was either used as a fortification or a lighthouse in the past. Today also you will see Duden waterfalls. All the streams of the region aim at finding their way into the Mediterranean and they pour down the slopes of the Taurus, sometimes overland sometimes underground and reaching their destination, result in lovely waterfalls, of which there are more than twenty. After tour drive to hotel.Overnight in Antalya.(Breakfast and Hotel Dinner)
Day 9: Antalya to Pamukkale & Pamukkale Tour
Today you will visit White heaven in turkey known as cotton castle and it is called as Pamukkale in turkish. From Antalya to Pamukkale takes around 4 hours. You will be picked up from hotel and drive to Pamukkale and you will visit White terraces and you can walk and swim in naturel water. Dont forget to take your towel and comfortable dress for swimming or walking. And also you will visit hiearapolis ancient city too. Overnight in Pamukkale. (Breakfast and Hotel Dinner)
Day 10: Pamukkale to Fethiye & Saklıkent Canyon Tour
Today you will visit Saklıkent canyon. You will depart from Pamukkale to make Saklıkent Tour. From Pamukkale to Saklıkent it takes around 3 hours. Saklıkent is biggest canyon in mediterrian area. Guest will dicover this hidden paradise. You have chance to make rafting ar Saklıkent canyon. This will be charming day for you after 10 memorable days on tour. After tour transfer to hotel. Overnight in Fethiye. (Breakfast and Hotel Dinner)
Day 11: Oludeniz Relax Day
Today is your free day at Fethiye. Today you can explore Oludeniz and Fethiye area.you can spend time on famous Olüdeniz beach ( deadsea).Overnight in Fethiye. (Breakfast and Hotel Dinner)
Day 12: Fethiye to Bodrum & Dalyan and Bodrum Tour
Dalyan is located approximately 1.5 hours from Fethiye and is surrounded by natural beauty. Experience natural mud baths of Turkey and cover yourself head to toe in the natural sulphur mud baths and enjoy this therapeutic beauty treatment . you will have boat tour on dalyan diver and see famous rock cut tombs which dates back 3000 years ago. Then we will go to Bodrum. Our visiting place is Bodrum Castle where the medieval castle of St. Peter is a great example of 15th century Crusader architecture and has been converted into the Museum of Underwater Archaeology with remains dating back to the Bronze age such as collection of great relics from the lives of ancient shipwrecked mariners, with glassware, copper-ware and gold items.. Overnight in Bodrum. (Breakfast and Hotel Dinner)
Day 13: Bodrum Daily Boat Tour
Daily boat trips along the stunning coastline of the Bodrum peninsula coasts is one of most popular day out attractions for sea and sailing lovers, as well as one of the best things to do in Bodrum. This is full day activity in bodrum.Bodrum coasts are very rich in color with jagged rocks and bright trees, as well as contrasted against the clear, turquoise sea.you will have really good and relaxing time while visiting famous bodrum bays. After return to harbour you will be transfered to hotel. Overnight in Bodrum. (Breakfast,local lunch on boat,Hotel Dinner)
Day 14: Bodrum to Kusadasi
Today you will be picked up from your hotel and transfer to Kusadasi. From Bodrum to Kusadasi it takes around 2 hours. Upon your arrival transfer to hotel and overnight in Kusadasi. (Breakfast and Hotel Dinner)
Day 15: Full Day Ephesus Tour
After breakfast,your guide will pick up you from hotel and today you will visit one of preserved ancient city called and Ephesus. You will walk through history today , you will see theather,library,agora ,baths,temples and more. Ephesus theather is biggest roman theather and library of ephesus is third biggest library of the World in ancient time.After you will visit house of Mother Mary where tought she spent 4 years on the bulbul mountain. In 1967 Papa VI. Paul had visited House of Mary in Ephesus. After tour drive back to hotel. Overnight in Kusadasi. (Breakfast and Hotel Dinner)8
Day 16: Kusadasi to Canakkale & Troy and Pergamom Tour
Today after breakfast, you will drive along aegean cost. You will see beatiful coastline of Turkey. Continue to Pergamom and along the way, feast your eyes on the beautiful Agean Sea view with lush olive trees and some Greek and Turkish islands. Upon arrival visit Pergamon Ancient Asklepion, the Asklepion is a famed ancient medical center built in honor of Asklepios, the god of healing. It was also the world's first psychiatric hospital. After pergamum city,you will drive to the ancient city of Troy. We will visit this ancient city and the infamous wooden horse..you will drive on famous Ida Mountain on the way to Troy. End of day you will be taken ho hotel. Overnight in Canakkale. (Breakfast and Hotel Dinner)
Day 17: Canakkale to Istanbul via Bursa Tour
Today you will be picked up from your hotel and transfer to Bursa. Bursa dates back to the 2nd century B.C. and is the first capital of the Ottoman Empire.While on this tour, you will visit the Green Mosque and the Green Mausoleum, both world-renowned for their superb tile decorations, and the Koza Han, which for centuries was the centre of Bursa's flourishing silk trade.This tour and will take place at one of Bursa's most highly-regarded traditional Turkish restaurants, where you will enjoy authentic Ottoman cuisine in a historic setting.The tour will return in the late evening to Istanbul and where you will be directly transferred to your hotel. Overnight in Istanbul. (Breakfast)
Day 18: Free Day at Istanbul
Today is your free day at Istanbul. Today you can explore Istanbul byself. (Breakfast)
Day 19: Bosphorus Cruise & Dolmabahce Palace & Spice Market
After breakfast you will be pick up from your hotel for an other memorable Istanbul tour and you will see best side of city known as Bosphorus where is between Europe and Asia. You will see Dolmabahce Palace,Ciragan Palace,Ortakoy,Boshorus Bridge and houses and kiosks on aside from boat. Then you will go to Spice Bazaar for shoping. It still in use as one of the world's largest spice bazaars since 1665. It gains its Turkish name, Mısır Çarşısı (Egyptian Bazaar), from the fact that it once received income from taxes levied on Egypt.today hightlight of day is Dolmabahce Palace which first palace by turks according to europen style. With 285 rooms,6 salloon and biggest crystal chandle dolmahce palace will be unfortable for you. .After tour transfer back to hotel.Overnight in Istanbul. (Breakfast)
Day 20: Istanbul Departure
According to flight time, you will be pick up from hotel and transfer to airport to catch your international flight. Thank you for choosing us. Go with a smile… (Breakfast)
Notes:  Hagia sophia is close on Monday,topkapi palace is on Tuesdays and Grand Bazaar is closed on Sundays. If your tour is on one of these days, you will  visit Underground Cistern instead of Hagia Sophia and Topkapi palace , instead of Grand Baazar you will visit Spice Bazaar.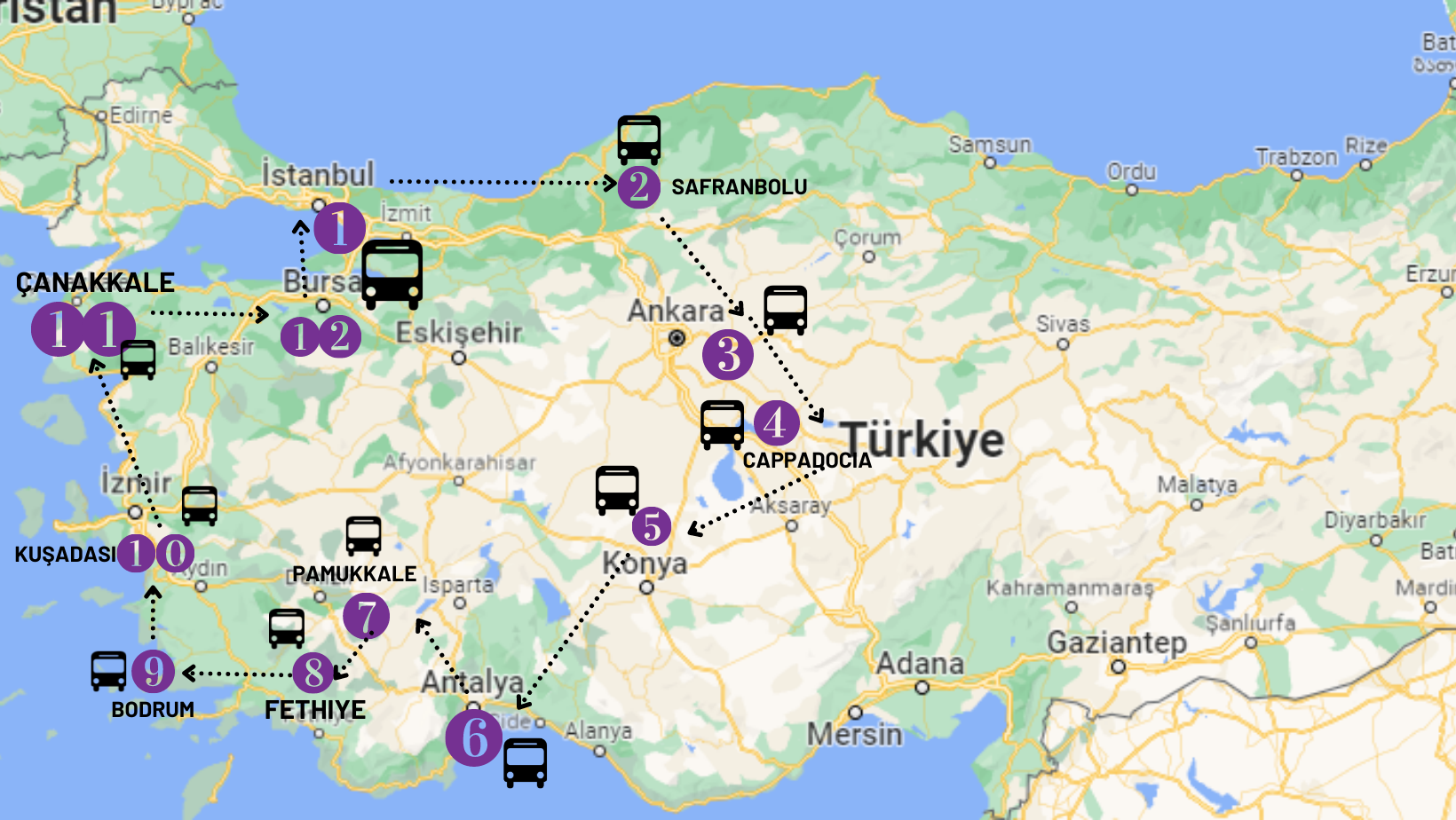 ISTANBUL HOTELS;
❇ 4 Stars ➲ Green Park Taksim Hotel (City Center, Taksim Square)
❇ 4 Stars ➲ Avantgarde Taksim Square (City Center, Taksim Square)
SAFRANBOLU HOTELS;
❇ 4 Stars ➲ Hanedan Konak hotel (City Center)
CAPPADOCIA HOTELS;
❇ 4 Stars ➲ Alfina Cave Hotel (City Center)
ANTALYA HOTELS;
❇ 4 Stars ➲ Ramada Plaza Hotel
FETHIYE HOTELS;
❇ 4 Stars ➲ Sun City Hotel (City Center)
BODRUM HOTELS;
❇ ➲ MANASTIR HOTEL (City Center)
PAMUKKALE HOTELS;
❇ ➲ Collesea Thermal Hotel and Spa
KUSADASI HOTELS;
❇ ➲ Ramada Suite Hotel
CANAKKALE HOTELS;
❇ ➲ Kolin Hotel
Accommodation can be exchanged with a similar category hotel according to the occupancy rate of the hotels