Izmir, Kuşadası, Pamukkale, Istanbul
Location
Turkey is the country where is the cradle of civilazitation since more than 10000 years. We can give some name of civilazitation and empires name as Hitit, Phrygia, Persian, Greek, Roman Empire, Selcuklu Empire, Ottoman Empire and mores… If you want to disover history, nature, culture in one place in the World, You are in correct adress; Turkey.
On our tours, you will see hightlight of turkey such as Istanbul, Izmir, Pamukkale, Kusadasi and anywhere you want to visit in Turkey. You just dream about Turkey and Top Turkey Tours team will make it for you. Please check our tours and If you have question we are happy to answer your questions.
Departure/Return Location

Istanbul / Istanbul
Departure Date

All Year Can be Arranged
Tour Included

Arrival and Departure Transfers in Istanbul, Izmir, Pamukkale, Kusadasi
All Tours and transfers are private based
2 Nights Accomodation in Istanbul BB
2 Nights Accomodation in Izmir BB
1 Night Accomodation in Pamukkale BB
2 Nights Accomodation in Kusadasi BB
1 Full Day Old City Tour
1 Half Day Bosphorus Cruise Tour
Smyrna & Pergamum Churches Tour
Thyatira & Sardis & Philadelphia Tour
Hierapolis & Laodicea Tour
Ephesus Tour
All Entrance Free on Itinerary
On Tour Licenced English Speaking Guide
5 Local Lunch on Tour (Drinks are Extra of Charge)
7 Local Dinner
7 Breakfasts
Flight Ticket which from Istanbul to Izmir

Tour Not Included

| | |
| --- | --- |
| All Personel Expenses | Minibars at Hotels |
| Tips to Staff | Any Meals Except on Itinerary |
Note: Our price is given according to 4* and boutique hotel catagory. If you are more than 4 people please ask our special offer for our Private based price option. If booking is before less than 4 weeks from arrival day, price can be changed due to domestic tickets. Please ask to tour consultant.
Children Prices:
0-3 Years : %15 Of Adult Price
3-5 Years: %35 Of Adult Price
6-11 Years: %50 Of Adult Price
Day 1: Arrival in Turkey
Welcome to Turkey!
Upon your arrival to Istanbul airport , our represantative will meet you at airport with sign which your name is written on and transfer to your hotel. Overnight in Istanbul. ( Local Dinner)

Day 2: Istanbul Byzantian and Ottoman Relics Tour
You will be picked up from your hotel for full day tour.
Hightlights of tour: Hagia Sophia Museum, Topkapi Palace, Blue Mosque, Hipoddrome, Grand Bazaar.
You will visit Hagia Sophia museum which was largest church of World during roman empire in 6th century.Than second hight of tour is Topkapi Palace where was center of ottoman empire since 15th century.
After Topkapi Palace, guide will take you to Blue Mosque, which is the unique mosque in Turkey with six minarets.Near blue mosque,you will visit ancient roman Hipoddrome where chariot races were arranged since 3th century in Roman Empire. Today last stop is most famous and largest covered bazaar in Turkey with 4000 shops inside known as Grand Bazaar.
After tour, you will be transfered back to hotel. Overnight in Istanbul. (Breakfast, Local Lunch and Local Dinner)

Day 3: Bosphorus Cruise Tour & Izmir (Kusadasi)
You will be pick up from your hotel for an other memorable Istanbul tour.
Hight lights of Tour: Bosphorus cruise on boat,
Today in the morning time, guide will pick up you from hotel and you will see best side of city known as bosphorus where is between Europe and Asia. You will see Dolmabahce Palace,Ciragan Palace,Ortakoy,Boshorus Bridge and houses and kiosks on asia side from boat, after tour you will be transferred to airport for fly to Izmir. Upon your arrival transfer to hotel. Overnight in Izmir. (Breakfast, Local Lunch and Local Dinner)
Day 4: Smyrna & Pergamum Churches Tour
Today after breakfast you will be picked up from your hotel. And this day our Seven Churhes Tour will start. Our first depart for the visit of ancient Smyrna; poor and persecuted, the church at Smyrna suffered amidst prosperity for its refusal to worship the Roman Emperor. This proved to be the last stronghold of Christianity in Asia Minor. Home of the great second century Bishop Polycarp who was burned alive at the age of eighty-six. Continue to Pergamum; a most memorable experience will be Pergamum, with its acropolis and Great Theatre, the steepest of the ancient world. Revelation 2:12-16 describes the city as "where Satan's seat is", a reference to the altar of Zeus, where we pause for reflection on the fulfillment of Scripture. Nearby, visit the Red Basilica; once a pagan temple, it later converted into a Christian church. Finally, walk through the Asclepion, the famous medical center of antiquity. After the tour you will be transferred to hotel. Overnight in Izmir. Breakfast, Local Lunch and Local Dinner3
Day 5: Thyatira & Sardis & Philadelphia
Today after breakfast you will be picked up from your hotel. Depart for the visit of Thyatira; was once a busy trading center and famous in dyeing of purple clothes. Thyatira is one of the Seven Churches mentioned in Revelations tolerated the false prophetess, Jezebel (Rev. 1: 11; 2: 18-29). Travel to Sardis, another of the Seven Churches of Revelation. Jesus told Sardis, "I know thy works, that thou hast a name, that thou livest, and art dead"(Rev. 3: 1-6). Coins were minted and the dyeing of wool originated in Sardis. You will be impressed by the massive scale of the Temple of Artemis, by the white marble Royal Road, by the gymnasium, and by the synagogue. Visit the site of Philadelphia also one of the Seven Churches of Revelation (Rev. 3: 7-13). Christ told those who overcame that He would write upon them "the name of my God, and the name of the city of my God, which is New Jerusalem." (Rev.3: 12) Today, not much is left to mark the spot. You will see an ancient wall and the remains of a Byzantine basilica. After the tour you will be transferred to hotel. Overnight in Pamukkale. (Breakfast, Local Lunch and Local Dinner)
Day 6: Hierapolis & Laodicea
Today after breakfast you will be picked up from your hotel. Depart for the visit of Hierapolis; an ancient city of pagan cults, Hierapolis or "holy city" was evangelized by Paul and Epaphras. The Apostle Philip lived and is said to be buried here. Pamukkale, or "cotton castle" is a spa and resort center with its hot springs and cascading limestone pools. Col. 4:12-13. Hierapolis The Christians of Laodicea, one of the Seven Churches, (Rev. 3: 14-22) were chastised for being lukewarm, "You are neither cold nor hot" (Rev. 3: 15), and for being too comfortable incorporating pagan and Christian beliefs. In the famous scripture from Revelation (3: 20-21), Jesus says to the Laodicean church: "Behold, I stand at the door and knock…". Today, there are many acres of ruins to see, including the stadium and columned streets and a chance to witness the newest axcavations in Laodicea. After the tour you will be transferred to hotel. Overnight in Kusadasi. (Breakfast, Local Lunch and Local Dinner)
Day 7: Full Day Ephesus Tour
Today after breakfast you will be picked up from your hotel. Ephesus is one of the Seven Churches of Revelation (Rev. 1: 11). In ancient days, Ephesus was a bustling port town of 250,000, graced with wide, colonnade bordered streets. The St. Paul's first visit to Ephesus was brief – during his second missionary tour (Acts 18:19-21). His second visit lasted about three years – during his third missionary tour (Acts 19:1 to 20:31). Luke's account of the worship of Diana appears in Acts 19:34-35. The Great Theatre (stadium) mentioned in Acts 19:29-31 could seat 25,000 people. Walk the marble-paved street with grooves made by chariot wheels. See the Fountain of Trajan, the Library of Celsus, and the Great Theatre with a capacity of 24.000 spectators. Visit the Chapel of the Virgin Mary (Double Church), where the Third Ancient Council convened. Continue to visit the Basilica of St. John; early tradition associated John, the disciple of Jesus, the author of the Gospel of John and the Book of Revelation with the city of Ephesus. As early as the 4th or 5th century a Christian church was built over a simple grave, supposedly the grave of St. John. In the 6th century Emperor Justinian had an impressive domed basilica built to replace the earlier church. The church, known as the Church of St. John the Theologian, is located on Ayasuluk Hill, which can be reached by a street leading up from the center of the town called Selcuk. Visit the Museum of Ephesus for an up-close look at artifacts from the ancient city. After the tour you will be transferred to hotel. Overnight in Kusadasi. (Breakfast, Local Lunch and Local Dinner)
Day 8: Izmir to Istanbul & Istanbul Departure
After breakfast you will be transferred to Izmir airport for fly to Istanbul. Upon your arrival you will catch your international flight. Thank you for choosing us. Go with a smile… (Breakfast)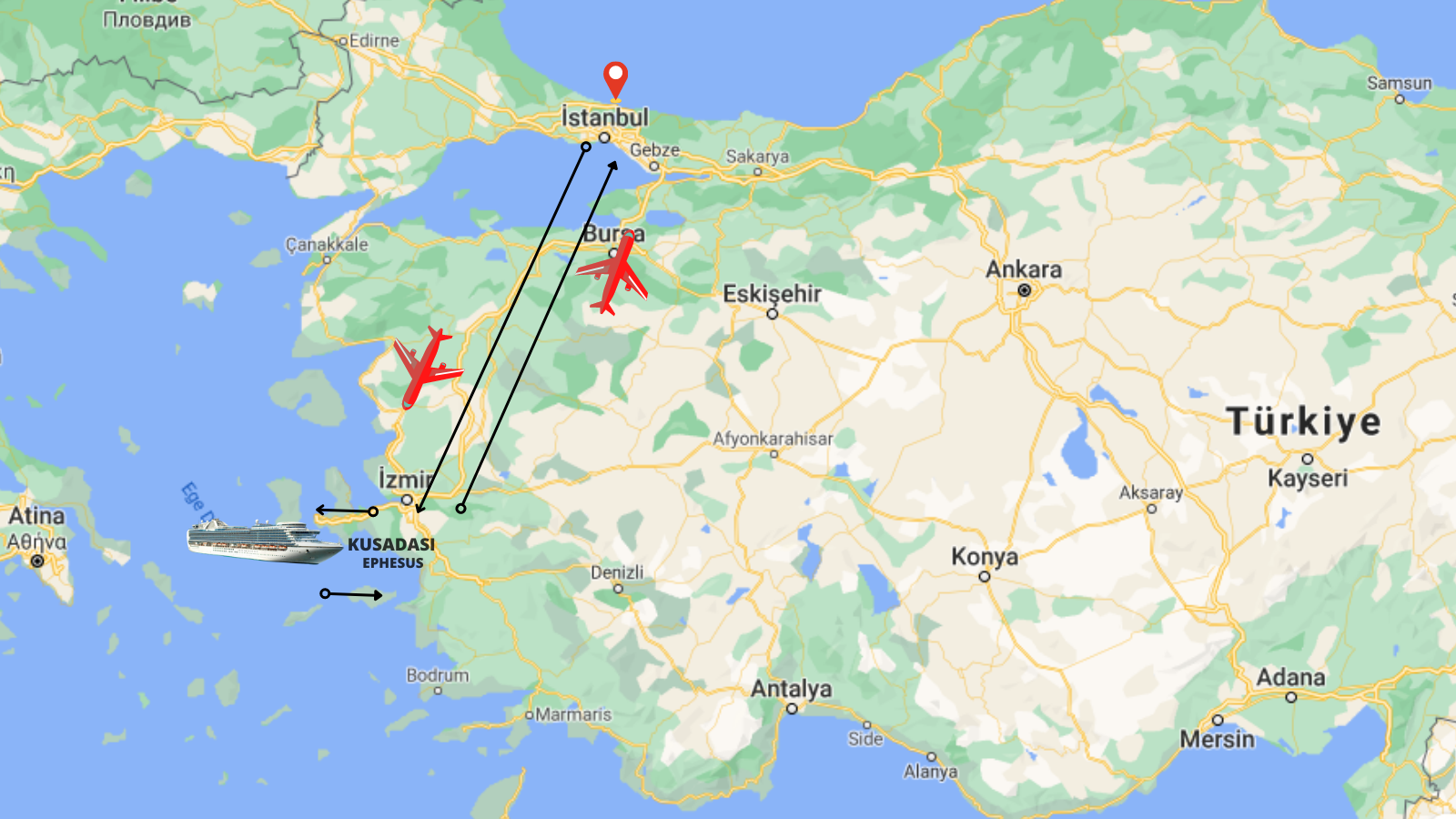 ISTANBUL HOTELS;
❇ 4 Stars ➲ Avantgarde Taksim Hotel (City Center, Taksim Square)
IZMIR HOTELS;
❇ 4 Stars ➲ Ramada Plaza by Wyndham Izmir (City Center)
PAMUKKALE HOTELS;
❇ 5 Stars ➲ Spa Hotel Colossae Thermal (City Center)
KUSADASI HOTELS;
❇ 4 Stars ➲ Ramada Hotel & Suites by Wyndham Kuşadasi (City Center)
Accommodation can be exchanged with a similar category hotel according to the occupancy rate of the hotels