Kuşadası, Pamukkale, Cappadocia, Istanbul
Location
Turkey is the country where is the cradle of civilazitation since more than 10000 years. We can give some name of civilazitation and empires name as Hitit, Phrygia, Persian, Greek, Roman Empire, Selcuklu Empire, Ottoman Empire and mores…
If you want to disover history, nature, culture in one place in the World, You are in correct adress; Turkey. On our tours, you will see hightlight of turkey such as Istanbul, Ephesus,Pamukkale, Cappadocia, and anywhere you want to visit in Turkey. You just dream about Turkey and Top Turkey Tours team will make it for you. Please check our tours and If you have question we are happy to answer your questions.
Departure/Return Location

Istanbul / Istanbul
Departure Date

All Year Can be Arranged
Tour Included

Arrival and Departure Transfers in Istanbul, Kusadasi, Cappadocia
Domestic Tickets
All Tours and transfers are private based
3 Nights Accomodation in Istanbul BB
3 Nights Accomodation in Kusadasi BB
3 Nights Accomodation in Cappadocia BB
1 Bosphorus Dinner Cruise
1 Full Day Old City Tour & Art of Marblingr
1 Half Day Bosphorus Cruise Tour
1 Full Day Ephesus Tour & Cooking Class and Sirince Wine Tasting Tour
1 Full Day Pamukkale Tour
Cappadocia Tour & Carpet Rug Weaving Course
Cappadocia Tour & Making Pottery Tour
All Entrance Fee on Itinerary

On Tour Licenced English Speaking Guide
5 Local Lunch on Tour (Drinks are Extra of Charge)
9 Breakfast
1 Local Dinner
Tour Not Included
| | |
| --- | --- |
| All Personel Expenses | Minibars at Hotels |
| Tips to Staff | Any Meals Except on Itinerary |
Children Prices:
0-3 Years : %15 Of Adult Price
3-5 Years: %35 Of Adult Price
6-11 Years: %50 Of Adult Price
Day 1: Arrival in Turkey & Bosphorus Dinner Cruise
Welcome to Turkey! Upon your arrival, our represantative will meet you at airport with sign which your name is written on and transfer to your hotel.
Evening you will be picked up for amazing Bosphorus Dinner Cruise. You will enjoy delicious gourmet foods while you dance with the panaromic view of the Bosphorus that separates the two continents Europe and Asia. Enjoy as you cruise The Bosphorus and see historical places like Dolmabahce Palace, Bosphorus Bridge, Ortakoy, Rumeli Forthress Fatih Bridge , Beylerbeyi Palace Maiden's Tower and also Istanbuls very famous night clubs as you wine and dine the night away.No other Istanbul experience can match this unique combination of romantic ambiance. We combine fresh food with unparalleled views of Istanbul and live entertainment to create Istanbul's leading Bosphorus Dinner Cruise. After the dinner you can enjoy the entertaining music provided by professional DJ , Belly dance and traditional show programs or simply relax with a drink and enjoy the view Overnight in Istanbul. (Local Dinner)
Day 2: Old City Tour & Art of Marbling
Travelling to Istanbul is different. You will be at middle between two continent. And it makes you feel amazing. Today you will be picked up from your hotel for full day tour. You will visit Hagia Sophia which was largest church of World during roman empire in 6th century. Then second hight of tour is Topkapi palace where was center of ottoman empire since 15th century . After Topkapi Palace, guide will take you to Blue Mosque, which is the unique mosque in Turkey with six minarets.Near Blue Mosque,you will visit ancient roman Hipoddrome where chariot races were arranged since 3th century in Roman Empire. Then you will visit most famous and largest covered bazaar in Turkey with 4000 shops inside known as Grand Bazaar. And our last route is doing art of marbling at Caferağa Madrasa which name is Ebru Sanati in Turkish. Ebru has been used to decorate a variety of surfaces for several centuries. It's often used as a writing surface for calligraphy, and especially for covers and endpapers in bookbinding. Part of its appeal is that each print is unique.You can of course draw traditional Ottoman-era flowers, but the designs you can create using the Ebru technique are unlimited. All you need is your imagination!The patterns are the result of colour floating on either plain water or a viscous solution, which is carefully transferred to a sheet of paper or another surface such as fabric.After tour, you will be transfered back to hotel. Overnight in Istanbul. (Breakfast and Local Lunch)
Day 3: Bosphorus Cruise Tour & Izmir (Kusadasi)
You will be pick up from your hotel for an other memorable Istanbul tour.
Hight lights of Tour: Bosphorus cruise on boat,Kusadasi
Today in the morning time, guide will pick up you from hotel and you will see best side of city known as Bosphorus where is between Europe and Asia. You will see Dolmabahce Palace,Ciragan Palace,Ortakoy,Boshorus Bridge and houses and kiosks on aside from boat, after tour you will be transfered to airport to fly to Izmir . Upon arrival Izmir Airport,transfer to hotel. Overnight in Kusadasi.  (Breakfast)
Day 4: Full Day Ephesus Tour & Cooking Class and Sirince Wine Tasting Tour
Today you will visit one of the best preserved ancient city known as the Ancient City of Ephesus. You will walk through history, you will see theather,library,agora ,baths,temples and explore more togather with your guide. Ephesus theather is the biggest roman theather and library of Ephesus was the third largest library in the World back in ancient times.Your final destination in the historical part of your tour will be the old Greek Village" Sirince(Şirince)" which means "pretty".
Today the village is a perfect synthesis of Turk-Greek culture. Before you have your sightseeing inside the village, first you will join your "Cooking Class" and our last activity is wine tasting. Wine tasting at Sirince is traditional thing to do at there. All of the Wines are handmade. After tour transfer to hotel and overnight in Kusadasi. (Breakfast and Local Lunch)
Day 5: Pamukkale Tour
Today you will visit White heaven in turkey known as cutton castle and it is called as Pamukkale in turkish.  From Kusadasi to Pamukkale takes around around 3 hours.
You will be picked up from hotel and drive to Pamukkale and you will visit White terraces and you can walk and swim in naturel water. Dont forget to take your towel and comfortable dress for swimming or walking. And also you will visit hiearapolis ancient city too. After tour drive back to hotel in Kusadasi. (Breakfast and Lunch)
Day 6: Izmir to Cappadocia
According to flight time,transfer to Izmir airport and flight to Cappadocia.Upon arrival ,transfer to airport and overnight in Cappadocia. (Breakfast)
Day 7: Cappadocia Tour & Carpet Rug Weaving Course
Today you can join OPTINAL BALLOON tour please ask you agent.
Depart from your hotel to visit Devrent Valley to see the unigue fairy-chimneys. Drive to Love valley to see the most interesting mushroom-shaped pinnacles.Drive to the city of Avanos .In the afternoon visit another beautiful open air museum at Göreme where the remains of rock-cut churches and Christian settlements date back hundreds of years. And our next route is Uchisar.. After tour we will see art of carpet. Have you ever seen how carpet is making? If your answer is no we will learn that by hand! In Cappadocia, weaving, continuing since the Byzantine Period, is more common in Ürgüp, Avanos and Taşpınar. In Avanos the line pattern Kilim is also woven. Seljuk patterns are dominant in ancient carpets woven with root dyes. However at present the patterns from surrounding regions are also woven. (Breakfast and Local Lunch )
Day 8: Cappadocia Tour & Making Pottery Tour
Depart from your hotel to visit Red valley,and explore the famous rock- cut churches and hike 5 km through the Güllüdere valley. Then visit Çavuşin village.This village is famous for the houses and churches of the christian clegymen.After lunch Drive to the pigeon valley . In the afternoon visit Ozkonak underground city. Where early christians lived in fear and faith. After cultural tour we will learn how to make pottery! One of the most beautiful tourist attractions in Cappadocia is to experience pottery making.The Avanos District of Nevşehir Province in the Cappadocia region is famous for its pottery. The most famous terracotta ceramics producer in Cappadocia is Avanos. After the tour you will transferred to hotel and Overnight in Cappadocia. (Breakfast and Local Lunch)
Day 9: Cappadocia to Istanbul
According to flight time,transfer to Cappadocia airport and flight to Istanbul .Upon arrival ,transfer to airport and overnight in Istanbul. (Breakfast)
Day 10: Istanbul Departure
According to flight time, you will be pick up from hotel and transfer to airport. Thank you for choosing Top Turkey Tours . Go with a smile… (Breakfast)
Notes:  Hagia sophia is close on Monday,topkapi palace is on Tuesdays and Grand Bazaar is closed on Sundays. If your tour is on one of these days, you will  visit Underground Cistern instead of Hagia Sophia and Topkapi palace , instead of Grand Baazar you will visit Spice Bazaar.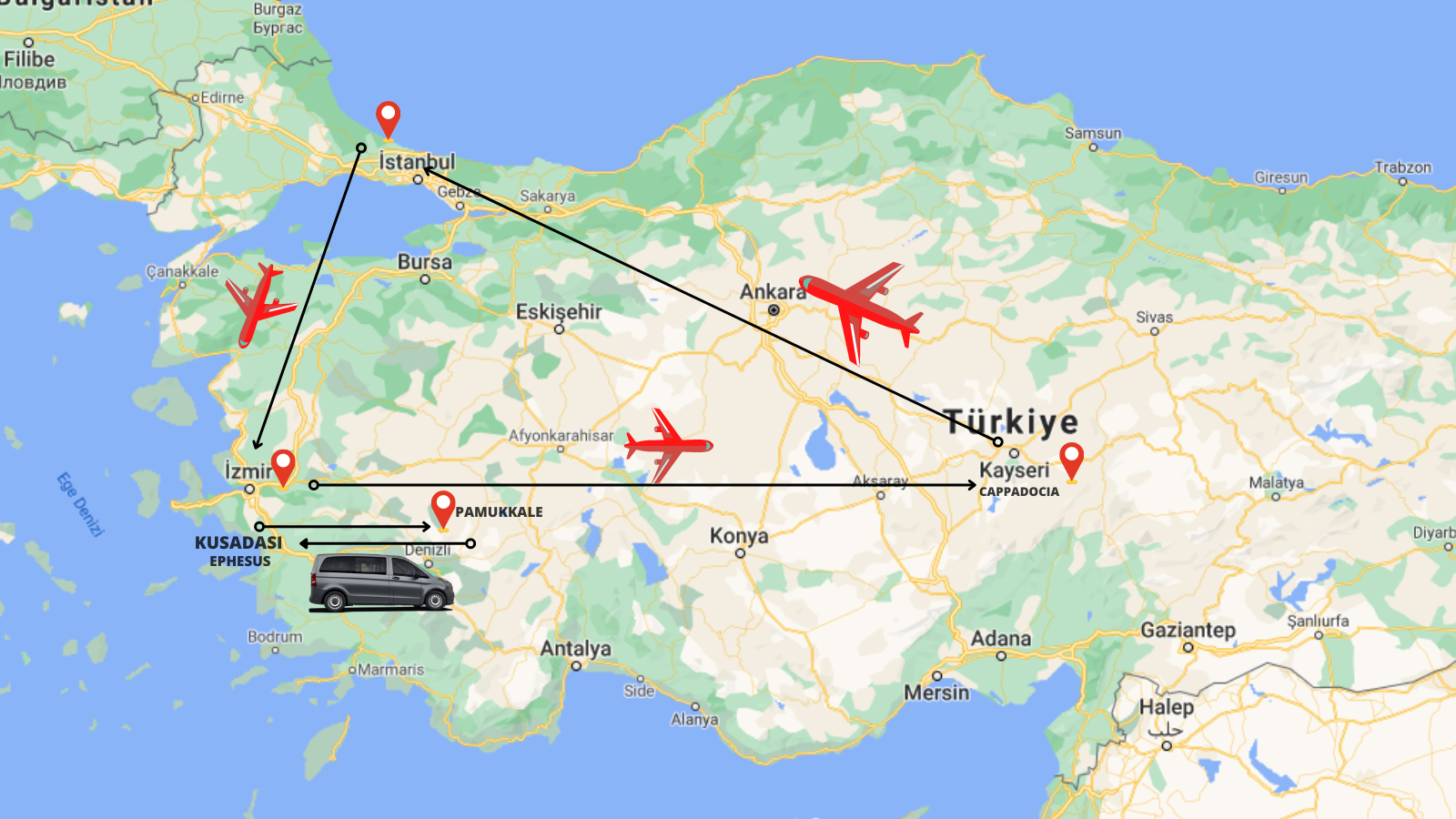 ISTANBUL HOTELS;
❇ 4 Stars ➲ Green Park Taksim Hotel (City Center, Taksim Square)
❇ 4 Stars ➲ Avantgarde Taksim Square (City Center, Taksim Square)
KUSADASI HOTELS;
❇ 4 Stars ➲ Marina Hotel & Suites (City Center, Near to Beach)
❇ 4 Stars ➲ Ramada Hotel & Suites (City Center)
CAPPADOCIA HOTELS;
❇ ➲ Heaven Cave House (City Center)
❇ ➲ Abraş Cave Hotel (City Center)
Accommodation can be exchanged with a similar category hotel according to the occupancy rate of the hotels